Emerging Tech Trends to Watch in 2022
Transform your risk adjustment program through digital transformation using AI, NLP technology and other advanced techniques.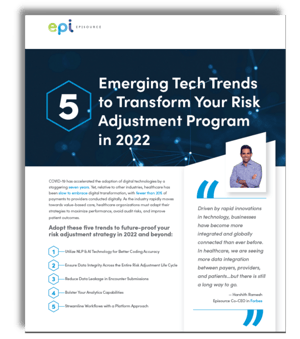 Healthcare is lagging behind other industries in the race to digital transformation, with fewer than 20% of payments to providers being conducted electronically. To help healthcare organizations revolutionize their risk adjustment programs, we've outlined five of the most important tech trends of 2022.
Key Takeaways:
Learn how to leverage targeted NLP and AI technology to achieve full coding accuracy and compliance.
Understand how to strengthen data analysis to segment member populations and prioritize interventions.
Eliminate siloed systems and data fragmentation by adopting a platform approach.